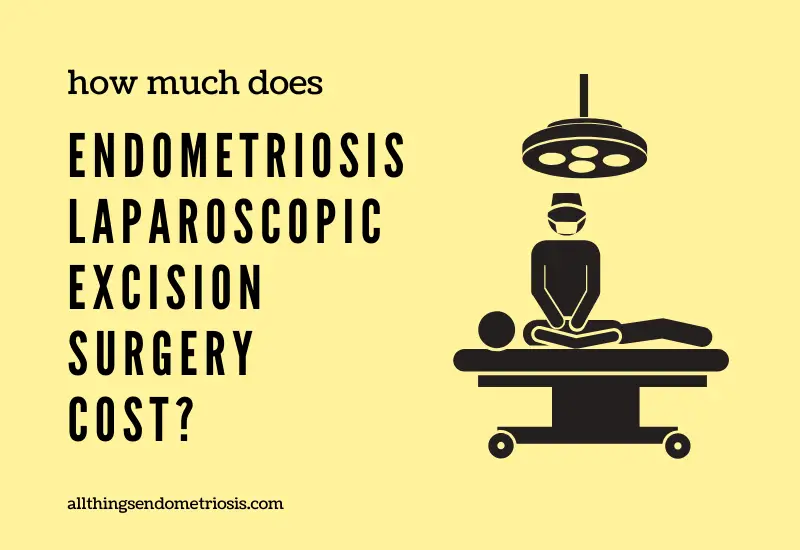 I'm sure like me, many of you have wondered how much the laparoscopic endometriosis excision surgery actually costs, so here's my research and experience of paying for it!
If you would like to see a video version of this blog post then you can right here, or just scroll down to read on:
How Much Does Laparoscopic Endometriosis Excision Surgery Cost?
In New York, USA an endometriosis specialist surgeon's fee ranges from USD 25,000 TO USD 35,000 and the hospital fee could be upto USD 16,000. The surgeon and the hospital takes this fee upfront to ensure all costs are covered.
In Portland, USA If it's a simple procedure, then the surgery is carried out in the surgeon's office whose fee is around USD 8000 but if the procedure is to be more complex then expect an additional hospital fee ranging from USD 18,000 to USD 30,000. The surgeon and the hospital takes this fee upfront to ensure all costs are covered.
Estimated maximum cost in Frankfurt, Germany is Euro 20,000 – the cost could vary as it is based on the extent of the disease. This cost includes the surgeon and the hospital's fee.
In Dubai, the cost ranges from 20,000 to 25,000 AED. This cost includes the surgeon and the hospital's fee.

Endometriosis Excision Surgery Cost Breakdown in the USA
My endometriosis laparoscopy excision surgery took place in September 2019 in New York.
Since I had the intention to get the surgery, I booked a surgery date to have it as soon as possible. My surgeon's initial consultation fee was USD 500 which would have been USD 850 had I not intended to go ahead with surgery.
This consultation included going over medical history, all my reports including my MRI, an endovaginal ultrasound and a conversation in which the surgeon made me understand the suspected areas of surgery.
With possible bowel endometriosis, my surgeon expected me to get a colonoscopy done to clear off any doubts of disease in the colon area (this procedure carried was an additional $7500).
His excision surgery fee ranges from USD 25,000 to USD 35,000, but I paid USD 28,000. The fee had to be paid in full and in advance. The fee also included post-surgery consultations – I ended up having three.
The first was to remove my catheter five days post surgery, the second was to go over my surgery results including a video of the surgery and the third was a final consultation to clear any doubts before I left New York.
Read Here For:
Before any surgery, there is pre-surgery testing during which your medical history is taken upon which it is determined what tests are required for this pre-surgery testing.
This consultation was USD 335, which was paid before the consultation began.
During my test, blood was drawn, an ECG/EKG was performed and a urine sample was given too. This is done at a place suggested by the surgeon – mine was done at the hospital where I was to be operated.
The cost of the tests totalled to USD 625.09, but as I was a self-paying patient (no insurance), I got a discount and was asked to pay USD 156.28. This bill was sent after the surgery took place.
The hospital charges for the surgery were paid beforehand and I was charged as follows – here's a breakdown:
1. Hospital Services for Outpatients includes
– Operating room time (upto 3.5hrs), anaesthesia medication, recovery room time, ancillary charges:
= USD 9,233.80
2. Physician & Professional Services
– Anaesthesiology (upto 3.5hrs) (USD 1950), Pathology – professional (USD 4101.66):
= USD 6,051.66
The Total: USD 15,285.46
This was the amount that was taken in advance from me. But the hospital reassures you that if you are in the operating room for a lesser time, if you are using the services of the anaesthesiologist for a lesser time and if there are lesser tissue samples taken for pathology than the average (average is 17 – 19 samples) then you are entitled a refund.
But, do expect it to be quite a struggle to receive this refund because hospital systems are slow and highly reluctant to pay these out. I am currently going through this struggle.
Update May 2020 – almost 9 months on, I have finally received an itemised bill. It has taken endless emails and calls for this to happen.
Please also note that this is the charge if you are an outpatient. But, if you do need to stay the night, then expect this USD 15,000 figure to reach USD 35,000 because as an inpatient the charges reach maddening levels.
How Do You Know if You Should Get a Refund for the Endometriosis Surgery?
Unfortunately, as a patient you do need to be vigilant by seeing the time you go into surgery, and by asking the attending nurse the time the moment you wake up in the recovery room. Sounds crazy right? I mean how does someone focus on the time when they've just woken up from major surgery and are groggy, stiff and in pain?!
I know it's tough and I did do it but frankly, at the end of it, what matters and what is believed are hospital records.
I was being charged for 3.5 hours of surgery and the anaesthesiologist's services, but I believe that I was only in the operating room for 2-2.5 hours. So I have had to question this and I have asked for records of not just when I exited the operating room but when the nurse took over in the recovery area.
I also had only 13 tissue samples taken for pathology whereas I was being charged for 17 to 19 samples.
All this is still under dispute, but please be vigilant of such discrepancies and be open to questioning anything you feel isn't right.
Update May 2020 – Despite asking all these questions in detail over email in December 2019, I haven't received a reply to those questions other than being told that an enquiry has been set up about this. I have emailed to ask for an update on this, but no reply so far.
Relevant Reads:
What if I Have Medical Insurance for the Laparoscopy?
If you live in the US and have medical insurance then you are still expected to pay a certain percentage of your doctor's fee and your hospital fee – this is all based on the sort of insurance you have and whether your doctor works with that insurance company or not.
Please speak to your doctor and your insurance company to completely understand where you stand.
My medical insurance in India covers me for certain treatments overseas, but not surgery for endometriosis. Yet there are some private insurance companies which may cover this surgery and that is something you should look to explore in your home country.
 

View this post on Instagram

 
Please Remember:
Everything mentioned in this post is purely based on what I have experienced.
Your experiences will most likely be different and you may face different costs based on your location, your surgeon's experience and the extent of your medical condition.
If you would like to know my how I progressed post surgery six months on and then one year on, then do read this:
Six Months On: Endometriosis Laparoscopic Excision Surgery – Am I Better?
One Year on from Endometriosis Excision Surgery – Was it Worth it?
That's really it about my experience on this front, but If you have any questions about this or you feel you would like to know something more, then please do get in touch by leaving your comments below.
If you're a social media person, then you can follow me on Instagram, Twitter, Facebook, Pinterest or YouTube.
I have a podcast too. You can check them out here along with their transcripts or if you don't wanna read them then they're available on Spotify and Apple Podcasts too.
Read Here For:
~~~~~
Disclaimer: I am not a medical professional. I am a patient and have created this platform to share my experiences. This is all purely informative and in no way am I providing medical advice. Please consult a medical professional.